In the late 1960's,Southern Pacific was entering the last few years of operating trains numbers 1 and 2. The "Limited" had already been dropped from the name by 1966. In the schedule of October 30. 1966 it is called the "Streamliner Sunset".
The westbound Number 1 departed New Orleans at 12:01PM. It arrived the second morning in Los Angeles at 8:15AM. The train was chair car only as far as El Paso. Also there was no diner; only the "Automatic Buffet" car. From El Paso the Sunset became a first class train with the addition of sleeping cars and dining and lounge service.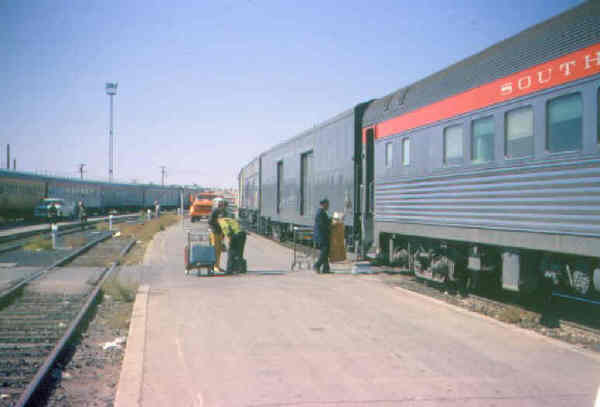 Above: Number 1 has stopped at El Paso on a October day in 1969. By this date, no diner or sleeper will be added here. Only an extra chair car.
Below: The Sunset emerges from the fog at Alpine, Texas October 23, 1969.