Below in the September 1, 1968 timetable, all Missouri Pacific trains are on one page. More cuts were to come soon. By April 1969 trains 41 and 42 between Palestine and Houston were gone.Thus ending passenger service started in the 1870s when the International and Great Northern railroad had been built between those two cities.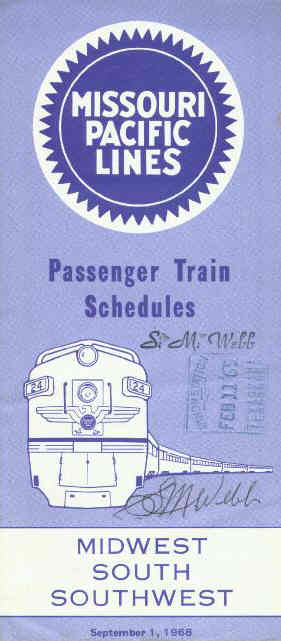 The combination of improved highways, and low gas prices had put too many rail passengers into their automobiles. The airlines took away the first class sleeping car passengers. Missouri Pacific had done about all it could do within reason to stay in the passenger business. When the Postal Service took most mail off the trains in the late 60s, the end was near.
When S.M. Webb date stamped and signed the schedule on the left, his days as a ticket agent at the Texarkana Union Station were few. The date was February 11, 1969.
On the schedule below: Trains 41 and 42 were taken off on April 2, 1969. Trains 3 and 4 had already been dropped on November 11, 1968.
The last service to Dallas and Ft. Worth ended on May 31, 1969 and trains number 1 and 2 were cut back to Texarkana in September of 1970. The remnant of trains 21 and22 between Marshall, Texas and New Orleans lasted until December 17, 1969. That ended Missouri Pacific service to New Orleans. At the advent of Amtrak on May 1, 1971, trains 1 and 2 were discontinued between Texarkana and St. Louis. This ended the remaining service on what had been the Texas Eagle route.
Amazingly, there were still two daily trains each way between St. Louis and Kansas City at this time. Trains 15 and 16 became part of the Amtrak National Limited New York to Kansas City train. This was the only part of the once vast Missouri Pacific-Texas and Pacific passenger service to survive. Now other pieces of the old Mopac system have seen a return of passenger trains. The Amtrak Texas Eagle operates over the same route between Ft. Worth and St. Louis and between Taylor, Texas and San Antonio.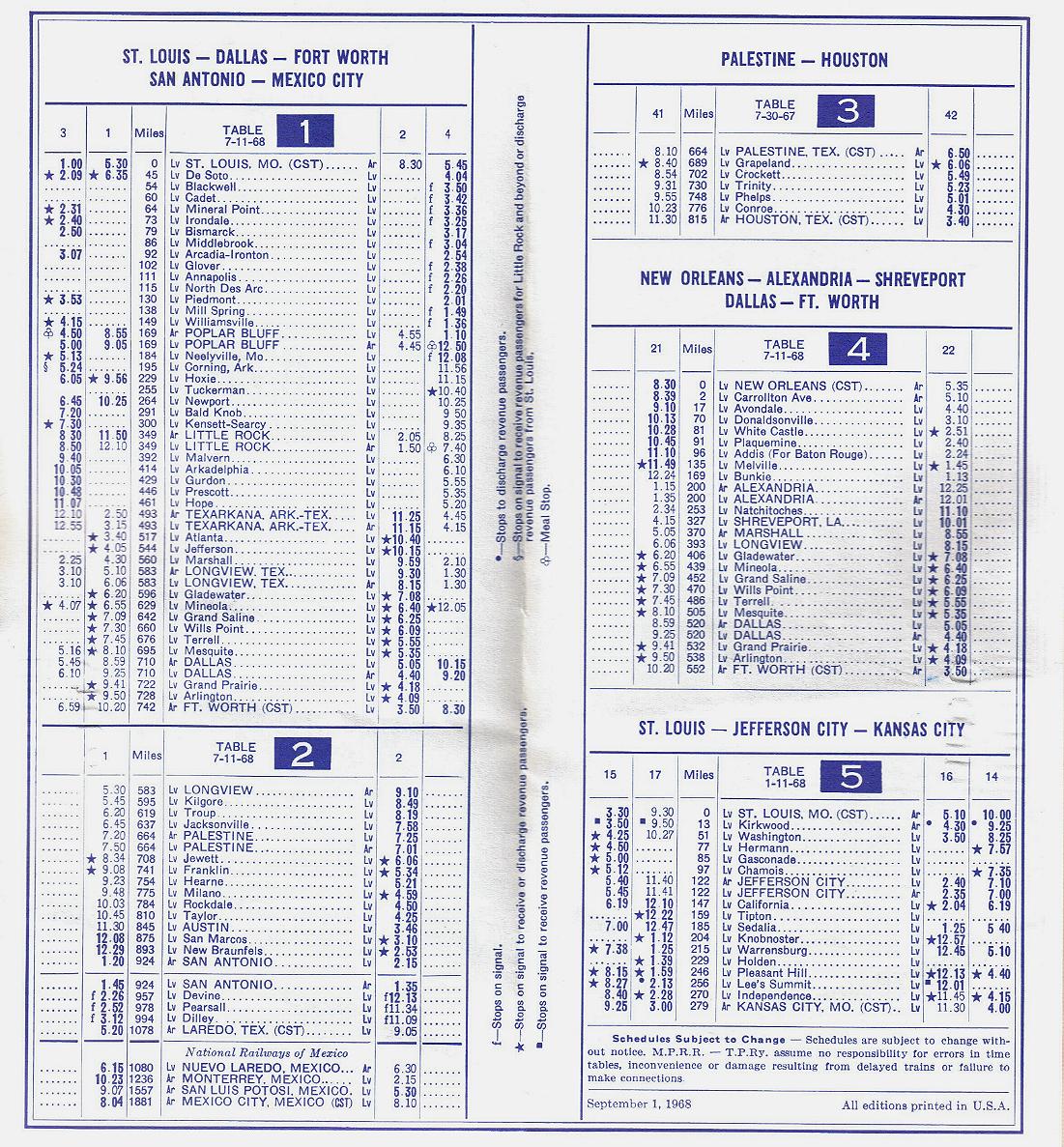 A look at some old slides