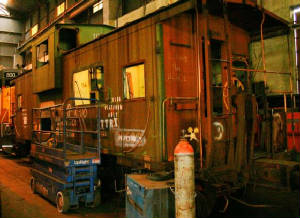 (UPDATE 4-5-06 SEE THIS CABOOSE TODAY__CLICK HERE!!) When you see finished product note from customers original purchase, work & paint in shop, cranes, delivery to customer about 250 miles (with 2 trucks, oversize permits, etc) about $50,000 cost!! Customer finishes out interior!! They feel that was a great buy!!
Caboose getting customized in San Antonio Shops
Ideal for use as a photo processing shop...florist...real estate office...guest house...train room...etc. Here are some estimates:
Exterior paint ......... ABOUT $14,000.00
Custom interior to your specifications (no job too small or check too big!)
Custom Logos ...... ABOUT $1100.00
Motor freight ...... $15.95 /mile or more (highway escorts & permits extra)Note: Every move is different. Price quoted on individual job.
(From South Texas)
Cranes ..... $995.00/hour (4-hour minimum both loading & unloading)
Prepare 50' of railway at your site ..... (call for quote)
Possible movement by rail if you have rail access
Coastline can put a turn key caboose at your site. Call for more information.
Prices Subject to change without notice in volital marketplace.
---
---


WE CAN SELL YOUR RAIL CAR, LOCOMOTIVE OR CABOOSE!!!


Now A South Texas Office! Bob Smith - Associate
Cell Phone- 936-760-8617


FOR MORE INFORMATION CONTACT


Jim@Coastlinerail.com


Bob@Coastlinerail.com


New/Used Railroad Equipment Sales * Appraisals * Maintenance Of Way * Inovative Rail Products




VISIT AND SUPPORT OPERATION LIFESAVER BELOW