If you wanted to take a ride on the Eagle then you needed a train and a ticket.
The train below is Missouri Pacific Lines train number 42 at Union Station in Houston, Texas.
In this photo taken by Phillip Whitley in 1968, the Eagle will be leaving for Palestine, Longview, Texarkana, Little Rock and St. Louis at 3:40 PM. At Palestine it will be joined with Train No. 2 from San Antonio and Austin. After leaving Palestine at 7:25 PM, the combined Houston and San Antonio trains would arrive in Longview at 9:10 PM and join Train No. 22 from Fort Worth .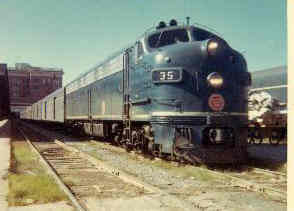 From Longview the combined Trains 2,22 and 42 would continue on to Little Rock (1:50 AM) and arrive in St. Louis at 8:30 AM.
In 1954 the west Texas and south Texas Eagles operated as separate trains, arriving and departing St. Louis ten minutes apart. During heavy travel times the Houston and San Antonio trains were separate. Also in 1954 secondary trains also traveled these same routes. There were two trains each way daily from El Paso, San Antonio and Houston. From Fort Worth, there were four trains each way daily. This included the former top named train; the Sunshine Special. Other Eagle trains were the Missouri River Eagle from Omaha to St. Louis, and the Colorado Eagle from Denver to St. Louis. Another train was No.s 11 and 12 the Valley Eagle that ran between Houston and Brownsville, Texas.
So, here is a ticket.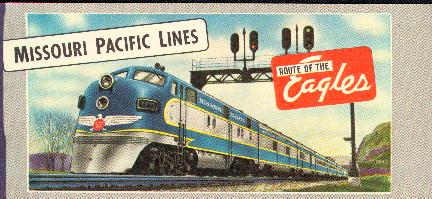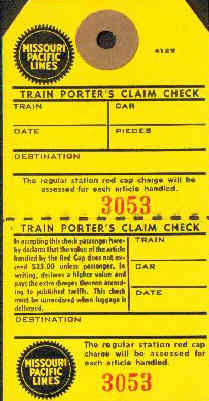 And on the right is a baggage claim check. Of course, you need to decide if you are going coach or first class. In 1954 first class means
a space on a Pullman sleeping car. pages.

Previous Page
Created 1/22/00